It is difficult to secure a website. Online vulnerabilities are present in thousands of numbers and protecting a website from each such vulnerability manually is tough.
As per a report by SUCURI, almost 74% of WordPress sites were found to be infected.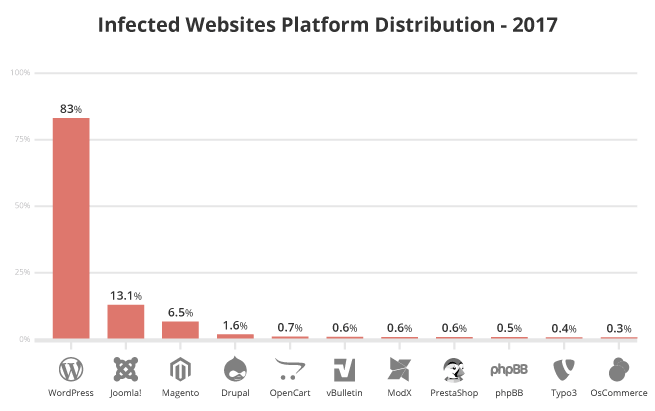 Web Application Firewall is one way to protect a WordPress website. WAF does this by adding security measures on the website and preventing online threats. WAF implementation can be of two types, Cloud-based and hosted. Cloud-based security provider removes all type of bad traffic blocking a network.
Following are the best WAF for WordPress.
1. Cloudflare
The firewall provides performance optimisation, CDN and security. The firewall does not slow down the website and provides protection from application-specific threats. It also uses WordPress specific rules to filter out vulnerabilities. It can either be installed or used as a plugin.
2. StackPath
Strongly integrated with WAF and CDN, it provides the standard seven layer protection such as protection from bots, user defined rules, dynamic filtering, enterprise-level rules and more.
3. Imperva
Imperva's WAF for WordPress protects you against common web-based attacks that steal sensitive information and harm your visitors. It is one of the most specialized options for WordPress security.
4. AWS WAF
This tool is useful when you are hosting your website on AWS. In the last few days, a template has been released by them which comes handy in reducing the OWASP top 10 threats. For users who require more functionality than this, Alert's Logic managed rules for WordPress might be useful.
5. Shield Security
Shield Security scans request and kills them if they are against the acceptable policy.
You get the option to respond to blocked responses such as return 404. The tool scans the site for directory transversals, SQL queries, field truncation, cooking value, WordPress terms and more.
The tool also offers specific features such as login protection, user session management, spam protection, hack protection, auto core update and lockdown, audit trail and more, absolutely free of cost.
6. Wordfence
This is an all in one security plugin with 2 million installations. It offers firewall protection and updates in real time against malware signature and threatening IP. It also offers two-factor authentication, spam filter, and security scans.
7. SUCURI
Sucuri is a cloud-based WAF which stops attackers and hackers using custom rules. All it requires is a DNS alteration without installing anything on the server. It helps in preventing DDoS attacks, malware and hacking, blocks bad bots, mitigation of brute force and zero-day exploits.
8. NinjaFirewall
It makes use of a strong filtering engine called Sensei. The tool also provides notification for events, centralized logging access, scanning capability for malware, and also supports multi-site use.
9. Incapsula
The PRO plan of the tool starts at $59 per month and is certified by PCI. It provides protection from all known types of threats to the security of applications. The policies of the WAF are updated on a regular basis to keep the website safe from any type of vulnerability.
10. SiteLock
SiteLock is cloud-based and provides a complete solution for a site by accelerating its performance, and adding security. Their WAF is called TrueShield and can be set up easily.
This comprehensive list of web application firewalls can help you protect your website hosted on WordPress.
A Web application firewall can be very handy when you are trying to keep your website safe from a hacker or spam or an attacker.
For those who cannot spend time on using these firewalls, premium WordPress managed to host is always an option, where providers are responsible to take care of everything, right from the security to hosting and CDN.