We have to agree that Detectify is one of better web application vulnerability scanners on the market.
Bu hey, not everyone is satisfied with the reporting or loading delays. Additionally, the Starter pack costs about $50 a month and Professional comes at $85 a month. Most businesses do not want to pay that kind of money without proving the RoI.
No matter what your reason is, we have compiled a list of the worthiest Detectify alternative that offer a wide variety in terms of price, usage, vulnerability coverage, and user experience.
1. Mister Scanner
If pricing and simple, actionable reporting are the two of the most critical expectations, MisterScanner is your tool. The basic plan will cost you about $2 a month, which for most businesses and bloggers provides clear RoI. Once you are comfortable with the results, there are other plans worth exploring on this Detectify alternative.
OWASP Top 10 coverage
SANS 25 coverage
Easy reports
Expert comments on every vulnerability
Used by businesses of all sizes
Reporting is by far the best feature of the product. Even non-tech stakeholders will understand the problems with the site and prioritize fixing based on business risks. We highly recommend that you use the product.
2. Qualys WAS
Qualys WAS is one of the few scanners that beat the Detectify testing features. With over a decade of experience in application testing, this tool can detect Cross-site Scripting, six types of Injection flaws, mobile app weaknesses, IoT issues, and unauthorized permissions. The cloud-based platform also takes care of reporting and bucketing the criticality of the flaws.
OWASP Top 10
Mobile app tests
IoT coverage
Malware reporting
Remediation support
You can manage the entire security testing and result landscape of your website through a single dashboard. However, Qualys is more expensive than Detectify. As an alternative, it offers better features but with about $30-40 hole in your pocket. There is a 14-day free trial for the product.
3. Acunetix
Established in 2004, Acunetix has some concrete software testing experience. Over the years, their products have evolved to offer powerful testing features. Acunetix Vulnerability Scanner can be used for both standalone and complex environments. It is one of the best Dynamic Application Security testing tools you will find.
OWASP Top 10
Built on C++
Low false positives
On-premise and cloud versions available
Acunetix has a secret offering too- network testing. Apart from scanning for web app issues, it will also scan for network flaws like web server misconfigurations, unprotected areas, and more. It costs about same as Detectify.
4. Probely
Probely web scan is probably the closest alternative to Detectify. From features to pricing, it has everything that Detectify has to offer. The most popular plan covers common security loopholes like cross-site scripting, SQL injection, and cross-site request forgery.
OWASP coverage
Multiple environment targets
Unlimited scans
Integration with Slack and Jira
At about $75 a month, Probely will serve you well as an alternative. Our team tested it for about a month and we found it to be a good match. Although Probely is a new product, we highly recommend it.
5. Tenable IO
Tenable Web Application Scanning is a powerful automated scanner with a free trial for a month. You can even get it extended with just a call to the support. It covers every vulnerability that other scanners on this list do. Additionally, Tenable scans HTML5 and single page web applications, along with traditional HTML apps. It is easy to use and comes with an online dashboard to keep a track of the vulnerabilities.
Managed in the cloud
OWASP Top 10
HTML5 support
Predictive prioritization
Prebuilt integrations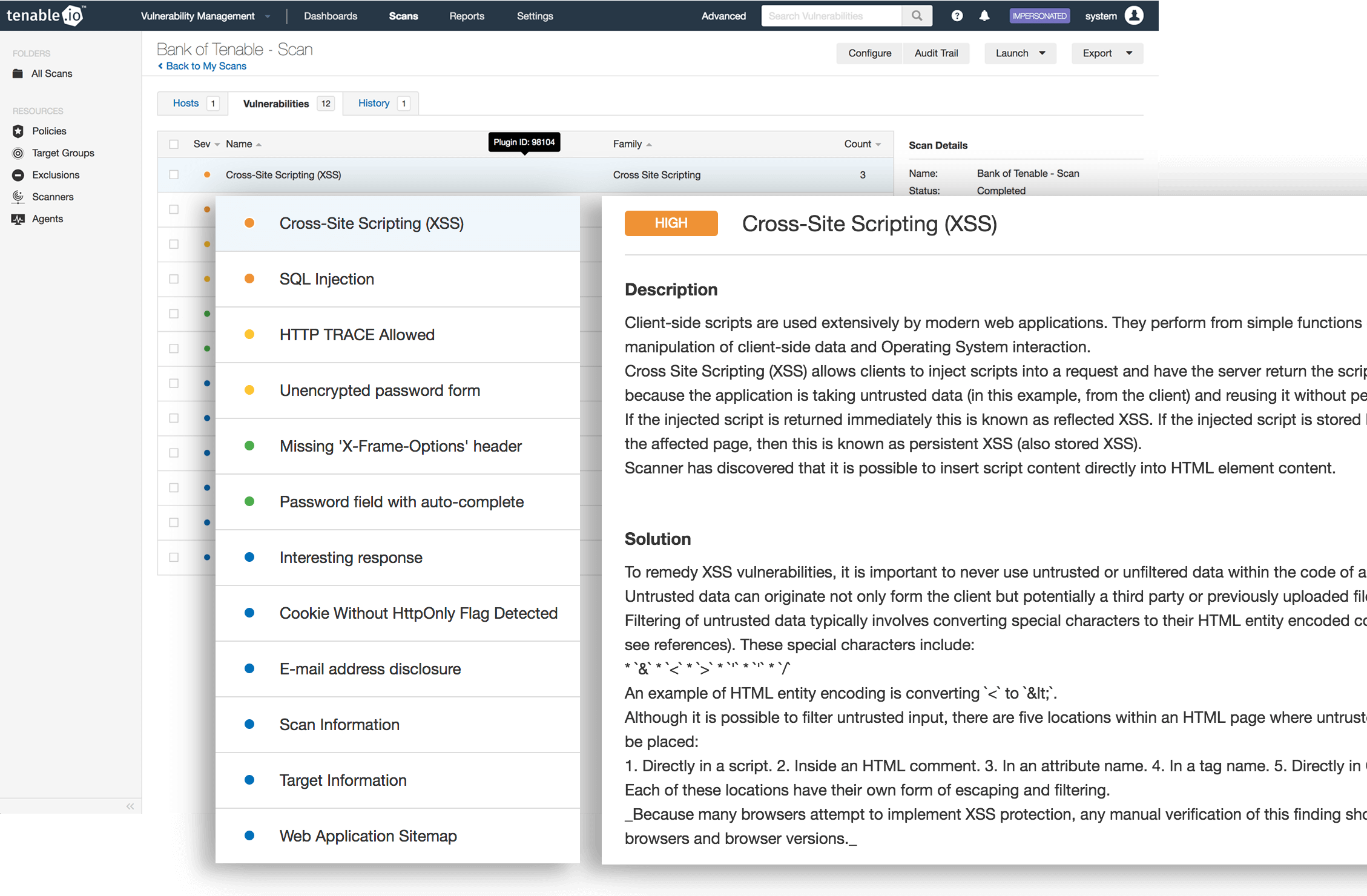 We could not find a monthly subscription deal for the product. That is probably the reason why they offer a 30-day trial as opposed to the usual 14 days. You will have to commit for a year and the basic subscription will cost you around $75-80 a month.
Our Recommendations:
If you are looking for Detectify alternatives, it can be because you do not like the product or maybe find it expensive. Either way, we will suggest you go with a trial or an inexpensive tool to understand if the tool is a good fit for your company.